My final challenge for 2015 is Foodies Read.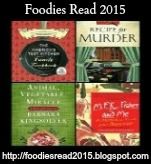 I'm taking part at the Pastry Chef level, which is 4-8 books.
1.
Yes, Chef: A Memoir
by Marcus Samuelsson (1/18/2015)
2.
The Apprentice: My Life in the Kitchen
by Jacques Pepin (1/27/2015)
3. My Last Supper
by Melanie Dunea (4/25/2015)
4. The School of Essential Ingredients
by Erica Bauermeister (6/16/2015)
5.
Kitchens of the Great Midwest
by J. Ryan Stradal (10/2/2015)
6. Kitchen Matrix by Mark Bittman (12/31/2015)