It's that time again! Time to set up a new year of reading challenges. The first for this year: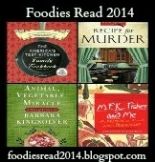 Foodies Read. I did a challenge like this in 2012 and enjoyed it. I like reading food-related books. This is going to be a low-pressure challenge, because I am only going for the Pastry Chef Level, which is 4-8 books.
I will list them here when I finish. If I list ideas I will put a date by them when I finish them.
1.
The Whole Enchilada
by Diane Mott Davidson (1/6/2014)
2.
The Supper of the Lamb
by Robert Farrar Capon (1/7/2014)
3
.
Comfort me With Apples
by Ruth Reichl (4/4/2014)
4.
The ABC of Canapes
by Edna Beilenson (11/22/2014)
5.
Venezia
by Tessa Kiros (12/28/2014)